A couple of weeks ago—is time slippery for you now too?—I participated in a virtual Higher Education Scholars meet-up.
Regular readers will know that this is a frequent gathering of (until now) predominantly Sydney-based academics, doctoral candidates and professional staff interested in research in higher education. I have posted about our previous meetings, A reminder to play, Staying in place, Yarning circle, The spirit of research and Imagining research futures. You can read more about the mob here.
This session was themed Keeping our researcher identities alive and our research community connected. The description of the day read:
Remember to choose yourself: your researcher self, your researcher identity, your flailing research project, the bit of writing you have left to the side for too long, and to bring that part of you to a conversation … [This] is a chance to resuscitate it: pick it up, dust it off, remember its merits, to present it, to get feedback, and to take the next step with it.
It was our first online meeting, ably hosted in a team effort, which brought with it the benefit of participants from La Trobe University in Melbourne, and one stalwart from the National University of Ireland, Galway (well done on staying awake, Jan!)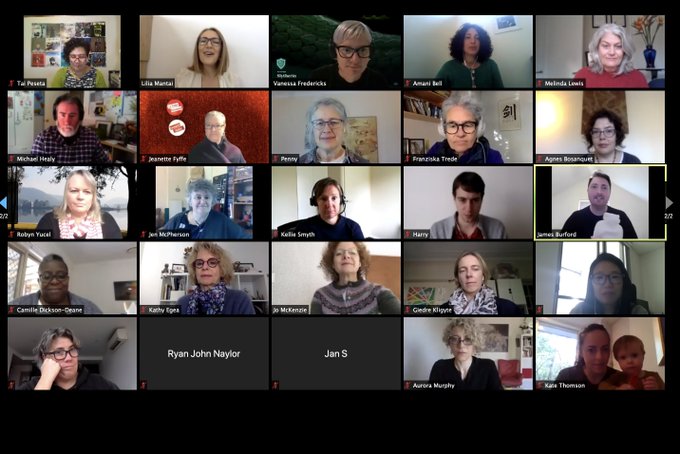 We read:
Ashwin, P. (2012). How often are theories developed through empirical research into higher education. Studies in Higher Education, 37(2), 941-955.
Swedberg, R. (2016). Before theory comes theorizing or how to make social science more interesting. The British Journal of Sociology, 67(1), 5-22.
I joined a discussion on the Ashwin piece, which poses a challenge to higher education scholars to produce theoretical work. His analysis of higher education journal articles published in 2008 showed that in the majority of articles, theory was implicit rather than explicit.
He prescribes a way of "making the development of theory through empirical research more common in higher education journal articles." In a nutshell: be explicit about theory, conceptualise your research and analyse your data using different theoretical lenses, and do more mixed methods research.
We had interesting discussions—both positive and negative—about these ideas.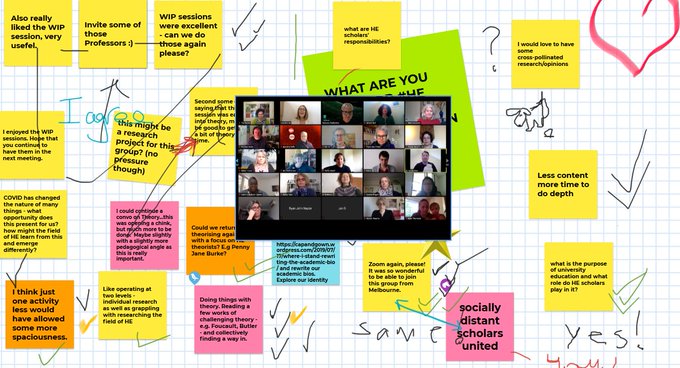 In the works in progress session, I relished the opportunity to present my work with Catherine Manuthunga on Conferences in the flesh: a multi-sensory cultural history. 
Debate about whether physical conference attendance is necessary or desirable predates COVID-19. Noting the importance of equitable access, conferences serve a multitude of purposes. Conferences may offer retreat from ordinary workdays and domestic routines. Collectively gathering in a specific geographical location, and experiencing diverse cultures, climates and cuisines, opens up opportunities for place-based learning and enriches academic relationships.

Only recently have conferences been recognised in higher education research (Henderson, 2015). This paper gathers literature dispersed across fields including geography (Derudder and Lui, 2016), psychology (Carpay, 2001), sociology (Dubrow et al., 2018) and education (e.g. Hart, 1984; Skelton, 1997; Walford, 2011). It also explores visual, aesthetic and sensory approaches to cultural research, and historical research in particular (Jütte, 2005; Smith, 2007; Grosvenor, 2012; Damousi and Hamilton, 2017).

We analyse empirical data from a cultural history of the International Academic Identities Conference (2008-2018), including interviews with thirty-two conference organisers, keynote speakers and participants attuned to sensory details: the sights, tastes, sounds, touch and smell of the conference experience. Following cultural history techniques (Burke, 2008; Popkewitz et al., 2001; Marwick, 2006; Rubin, 2002), transcripts were analysed for themes of place, sociality, embodiment, and sensory experience.

The focus of our discussion is place, a layered location that is temporal, spatial, political and personal (Lippard, 1997). Multisensory, embodied, place-based conferences enable academic relationality to flourish, and innovative and transcultural knowledge to be produced. Our rich data set offers a specific and intimate history of a particular conference community through the lived experience of academic identities scholars. This provides insights into the institutional and sectoral contexts in which participants work, and universities as places that are both physical and imagined sites for the expression of values, highlighting what Phipps (2007) calls the sensory work of the university as a body of scholars.
For those who are interested, here are my two slides: HEScholars
The discussion focussed on these questions: This research began before COVID-19 restrictions on gatherings. Is there value in work on embodied, place-based, sensory academic conferences right now? How can we ensure this is a thoughtful and constructive piece of work, while remaining true to data collected in a different time? It was affirming to receive feedback from scholars who recognised place-based, sensory, affective, embodied research as more important than ever.
Thanks all around & @AgnesBosanquet, always great to get together, tickle our brains and feed our research souls #HEscholars https://t.co/vzBE3z8mu8

— Lilia Mantai (@LiliaMantai) May 1, 2020