Last week I participated in the conference Beyond Mothering Myths? Motherhood in an Age of Neoliberalism and Individualisation. With a partner recovering from foot surgery, children on school holidays and a busy time at work, my attendance was partial and interrupted. Those presentations I did attend were provocative and affecting.
Lilia Mantai and I presented (on behalf of co-authors Jayde Cahir, Gail Crimmins, Janet Free, Karina Luzia and Ann Werner) a paper entitled Living with and letting go of motherhood and academia: A narrative in seven voices. Here is one of the seven voices (which might be familiar to regular readers):
Twelve years ago, when I was a PhD student, my daughter was born. Following a life-threatening placental abruption, she was diagnosed with epilepsy. Last year, her seizures worsened with the onset of puberty ("Mum, don't say that word")—thirty to forty a day, lasting up to twenty minutes each. She was unable to attend school for half the year. She spent a lot of time on a beanbag in my university office on the top floor of a brutalist concrete building, with walls painted a horrid pale apricot. But the view of remnant turpentine ironbark forest is spectacular. I keep the windows open, just a crack so the birds don't enter.

She missed the school trip to Canberra while she was sick, so we visited as a family. At the  National Art Gallery, we entered The Breathing Room by Patricia Piccinini. An audiovisual space of multiple screens, like entering the insides of a strange fleshy creature. The creature is similar in colour to my office. Sometimes it panics and its breathing and heartbeat roar. Sometimes it sleeps.  The room was both comforting and disturbing in its intimacy. A bit like being and having a mother, I thought.

Now, her epilepsy controlled by five medications, she is going on school camp for four nights. We have an A4 size blister pack with tablets in individually sealed compartments. The packet promises "peace of mind for relatives, carers and loved ones.
The presentation was an edited version of a forthcoming book chapter on motherhood and academia. The other voices in the chapter make for a diverse collection of first person narratives that illustrate complex and conflicting identities. We wrote the narratives in response to a prompt to think about 'breathing room' in our identities along a continuum as researchers/non-researchers, academics/non-academics, writers/non-writers, and mothers/ non-mothers. Our chapter is entitled 'Breathing Room' and I will share details of the edited collection when it is published.
One of the things I enjoyed about the conference was the way participants, predominantly mothers and children, inhabited and changed the space of the university. Bec van Dyke shared some beautiful illustrations of the conference: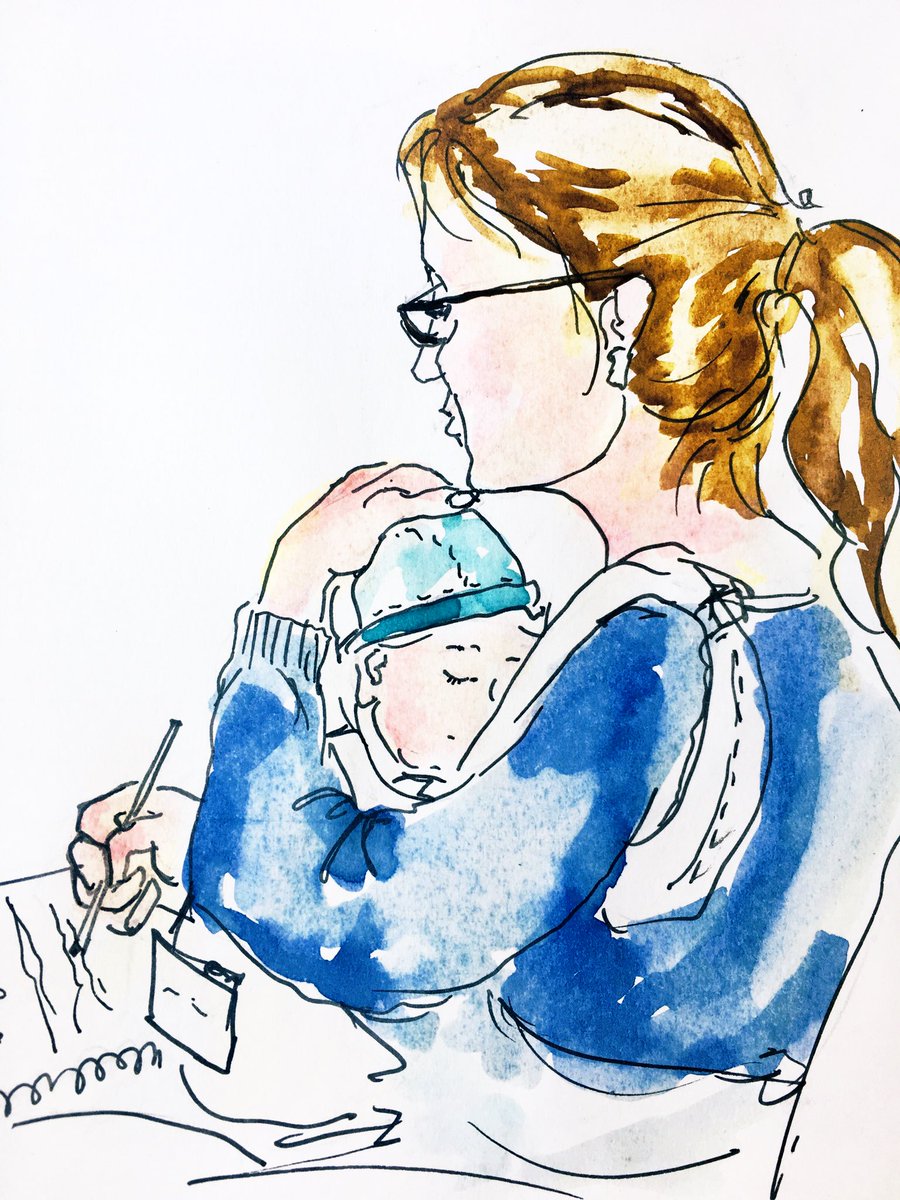 via Twitter @becvandyke
As well as children playing on the floor and public breastfeeding, there was a large knitted sculpture of a placenta:
via Twitter @Polly Dunning
The placenta makes for an excellent metaphor for creating a shared space for mothers and children in the university.
In Je, Tu, Nous, French feminist philosopher Luce Irigaray  interviews biologist Hélène Rouch about the complex role played by the placenta: "On the one hand, it is the mediating space between mother and fetus, which means there is never a fusion of maternal and embryonic tissues. On the other hand, it constitutes a system regulating exchanges between the two organisms." In contrast to commonly held views, the relationship is not one of "fusion (a … mixture of the bodies or blood of mother and foetus)" nor one of "aggression (the foetus as a foreign body devouring from the inside, a vampire in the maternal body)"; instead, the placenta is an organ that is formed by the embryo but behaves independently and relatively autonomously (Irigaray, 1993b, p 39).
In the provocatively titled "The Promiscuous Placenta", Jane-Maree Maher describes the placenta as "the point of communication between pregnant woman and foetal entity, allowing for and recognising their difference" (2001, p 202). She continues: "The placenta … offends and refigures bodily integrity and boundaries, it allows for at least two to work together at the site of one, while preventing against a collapse into singularity" (2001, p 202).
Imagine two subjects—let's call them the ideal academic and the leaky mother—in a shared (university) space.
Image: the University of Sydney law school, location of the conference.
You can read more about the placenta project online, and see more of the conference on Twitter #beyondmotheringmyths.