Last week I attended The Future of Academic Work: A deliberative conference at the University of Technology, Sydney. Its focus was a research project examining specific teaching-focussed, entry-level, continuing or fixed term (rather than sessional or casual) academic positions at Australian universities:
The new Scholarly Teaching Fellow (STF) role was introduced into Australian universities in 2013. The positions were aimed at creating a more stable teaching workforce, while also addressing growing concerns about the injustices of academic casualisation. The STF positions aim to offer a career path for casual academics, and have had an important impact on the sector-wide debate about the relationship between teaching, scholarship and research.
You can read the draft discussion report from the research team led by James Goodman, based on interviews with 100 scholarly teaching fellows and their managers. Here are some quotes from the participants:
In my first semester of teaching, I realized I couldn't physically do the work required without working weekends and stupidly long days. The pathway to secure employment via an STF means ongoing exploitation. (Female STF, Sandstone)
I was exhausted. Absolutely exhausted and it doesn't help with people in your corridor say, "oh you look tired today. Are you okay?" You just stop replying. (Female STF, Sandstone)
"If [teaching] continues to be hack work passed on to casuals, teaching scholars, whatever we call them, people who are kind of overworked and underpaid and unrecognized, then we are constantly sending the message and reinforcing the message that research is what matters and not teaching." (Female Senior Manager, New University)
It wasn't all negative:
Certainly having a full-time position has been invaluable. Having a sense of being part of a faculty and part of a group of academics … that's been really good. (Male STF, Unitech)
The conference was an openly activist one, with the National Tertiary Education Union highly visible, and overall it did a good job of balancing despair and hope about the future of academic work.
The opening keynote was presented by Professor Raewyn Connell, well known for her work on education, gender and sexuality. The keynote introduced her forthcoming book The Good University, on universities as a social good. I'm keen to read this, and enjoyed the keynote for an international view on the turbulence of higher education and history of student and academic activism (including Poland's underground flying university).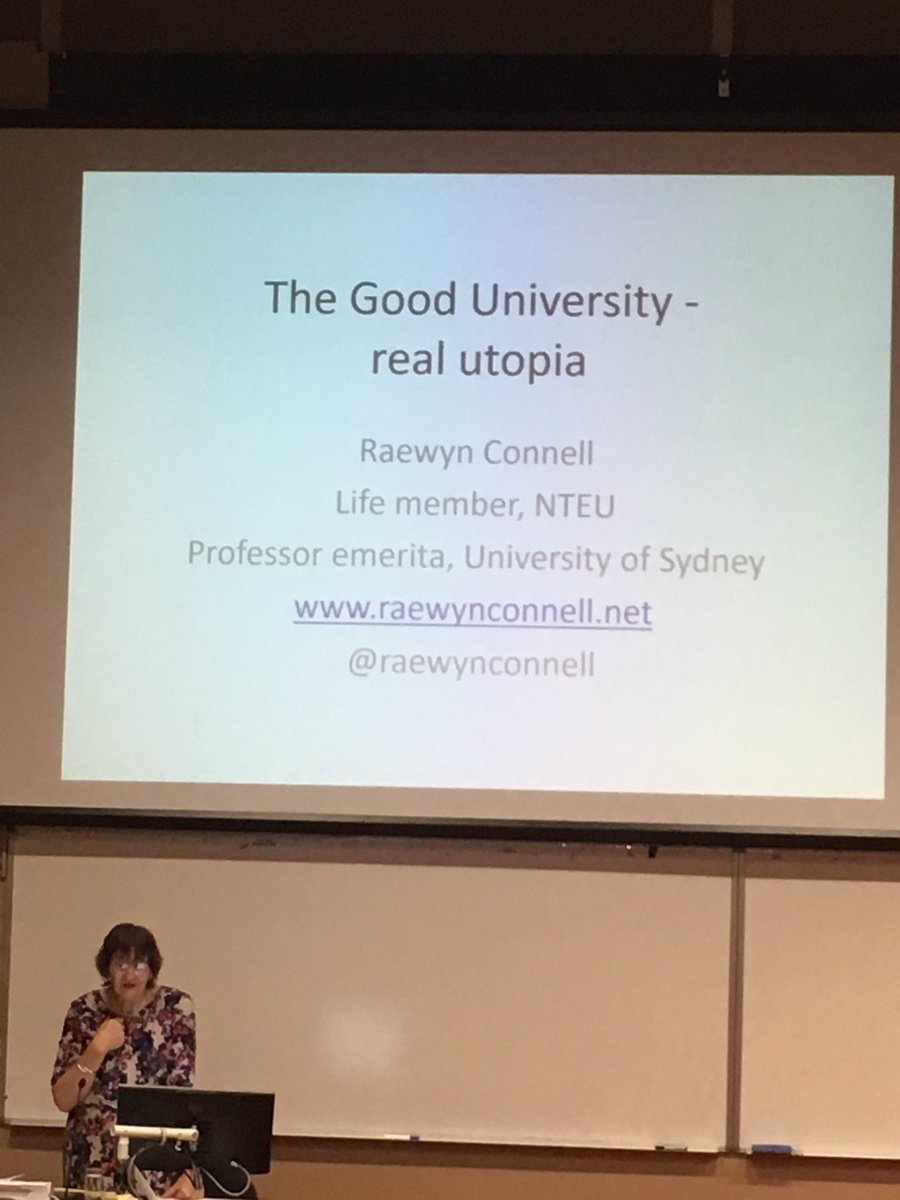 The remainder of the day consisted of workshop discussions on changing academic careers, some of which was tweeted with the hashtag #academicfutures
The statistics speak about the academic workforce #academicfutures https://t.co/D8h0yNSAlp pic.twitter.com/UzcVa2UMzL

— Marina Harvey (@BLASST_) December 5, 2018
"It's fake, it's hostile, it's culturally appalling" – in reference to universities boasting about rankings etc (but also applies to so many other aspects that it could be a broad sector statement.) #academicfutures

— acahacker (@acahacker) December 4, 2018
Nope. #academicfutures pic.twitter.com/lsVNHk4760

— Helen Gibbon (@helgibbon) December 4, 2018
Who's up for a bit of academic activism? I'm thinking engagement and strategy at a range of levels, from institutions to social media. A guerilla campaign to talk up L&T and fill the gap in executive discourse in our universities. #academicfutures

— Cathy Rytmeister (@CateyR) December 5, 2018
In the discussions, there was limited visibility of scholarly work on academic careers, the scholarship of teaching, and the politics of higher education. With universities not requiring teaching qualifications for teachers, this knowledge gap is not surprising. I started teaching armed only with disciplinary knowledge and enthusiasm. Thankfully, I was fortunate enough to have generous colleagues who guided my learning.
For those new to thinking about the future of academic work, I recommend the following as a starting point: