Having finished Playing Beattie Bow (1980) and  Anne of Green Gables (1908), my daughter and I are now reading Natalie Bobbitt's Tuck Everlasting (1976), an American novel the explores the idea of immortality. Reading two American books in a row was unintentional, but enjoyable for the conversational idiosyncracies such as starting every sentence with 'Well now…'
Next on our reading list is Victor Kelleher's young adult dystopian novel Taronga (1986). Best to start dystopian fiction young, I think. For even younger children, I suggest the picture books The Duck and the Darklings by Glenda Millard, and Sonya Hartnett's The Boy and the Toy.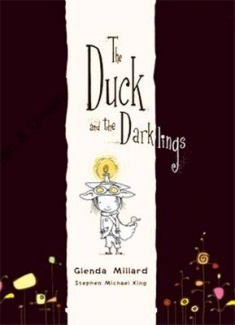 This is an extract of a conversation in Tuck Everlasting between immortal Tuck and ten year old mortal Winnie:
"Know what that is, all around us, Winnie?" said Tuck, his voice low. "Life. Moving, growing, changing, never the same two minutes together … Everything's a wheel, turning and turning, never stopping … The frogs is part of it, and the bugs, and the fish, and the wood thrush, too. And people. But never the same ones. Always coming in new, always growing and changing, and always moving on. That's the way it's supposed to be. That's the way it is …

"Stuck. That's what us Tucks are, Winnie. Stuck so's we can't move on. We ain't part of the wheel anymore … But dying's part of the wheel, right there next to being born … Being part of the whole thing, that's the blessing. But it's passing us by, us Tucks. Living's heavy work, but off to one side, the way we are … it don't make sense. If I knowed how to climb back on the wheel, I'd do it in a minute. You can't have living without dying. So you can't call it living, what we got."
Growing, moving and changing has been on my mind lately. My daughter is on the cusp of young adulthood, my son on the cusp of starting school, and we, their parents, are on the cusp of middle age. It's heavy work, as Tuck says, but it's a good feeling, mostly, being a part of the wheel.
As a teenager inclined toward a gothic sensibility and aesthetic, I used to want to live forever. This was fanned by what was I reading at the time—Camilla (1796), The Vampyre (1819), Dracula (1897),  Interview with a Vampire (1976) and The Vampire Tapestry (1980). In my final year of school, I wrote a personal interest project entitled 'The Fangs of Feminism', and even commissioned a friend of a friend to take photographs of me in a cape.
Truth be told, as a middle-aged academic mother, I now feel a greater affinity with zombies. I am not the first to make a link between zombies and the lived experience of the neoliberal academy. At the 2012 Academic Identities conference in Auckland, Peter Wood gave a paper entitled Audit identity: Or, how the PBRF turned me into an ambitious zombie. The Performance Based Research Fund is the New Zealand government's research excellence initiative, which Wood described as a 'viral bite' for the ways in which audit culture has infected the everyday practice of academic work and redefined academic identities. To quote an archived article from The Australian, academic zombies in Australia can be similarly identified by their "affectless references to DEST points, citation indices, ERA rankings, ARC applications, esteem factors, FoR codes, AUQA reviews and the like."
Describing academics as zombies seems to be contagious. In Whackademia, Richard Hil (2012) refered to the "zombification of academic life in which scholars shuffle dolefully around campuses" in compliance with neoliberalism. And in Australia Universities' Review, Suzanne Ryan (2012) suggested that academic zombification is a form of adaptation to "governance; audit; workload; workforce; and an acquiescent leadership." My favourite in the academic zombies genre is the edited collection Zombies in the academy: Living death in higher education which examines the synthesis between academic life and living death.
I no longer want immortality.
Almost every year—this is not a digression—my family visits the sculpture exhibition Hidden in Rookwood Cemetery. This year marks its tenth anniversary, and it is already in the calendar for September. There are usually around 30 sculptures, and there is truly something for everyone, a mix of the joyful, macabre, and curious. A couple of years ago, there is was a sculpture of a time meter (Buying Time by Graeme Pattison). Modelled on a parking meter, it allowed the user to purchase time. I was not tempted. Immortality was inviting as a teenager because I was only beginning to live.
Now, half-way around the wheel, more or less, I don't want more time. I want to use the unknowably finite time I have better. At work, that means spending less of my energy chasing metrics that make me feel deficient, and more time on work that matters in the company of colleagues.