Twitter moves quickly. But I love the way it enables connections with like-minded souls who share resources, writing, opinions and opportunities. For those who are not on Twitter, or who inevitably missed some useful stuff, here are some recent links.
1.
Thinkwell have some awesome resources, but they do tend toward titles that sound like you need to 'accelerate to maximise your research productivity' (a phrase that could come from university research strategies everywhere. Titles include Turbocharge Your Writing: How to become a prolific academic writer and Time for Research: Time management for academics, researchers and PhD students. I have copies of these in my office to give to new PhD students, and have found Time for Research has practical suggestions for slow academics. One page of this book was recently shared on Twitter by Hugh Kearns: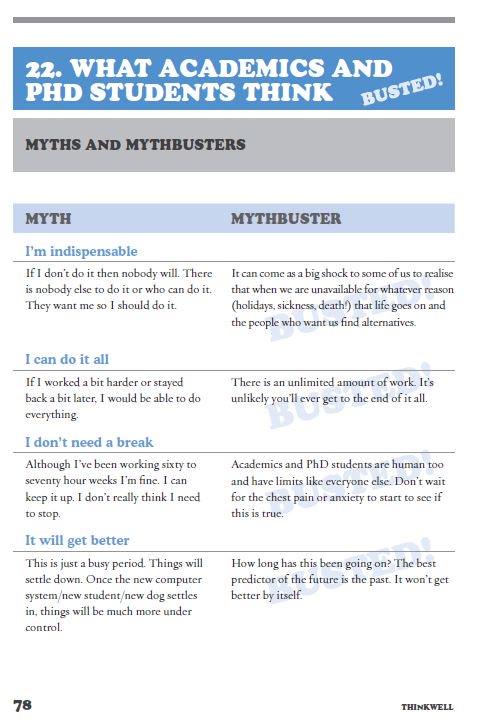 2.
Daveena Tauber shared a link to an extensive list of readings and resources on Mental Health in Academia:
Despite valorizing the life of the mind, academia can be a difficult place to maintain mental health. By sharing resources and experiences, we can work together to reduce shame and promote mental wellness for all students and faculty. This is a curated list of blogs, articles, and apps that may be of use to graduate students and advisors who are dealing with issues related to mental health.
It includes a link to the awesome blog Academic Mental Health Collective.
3.
Just as I was getting bogged down by negativity (a rational response to the international political scene) came this timely link from @researchwhisperer: How to Avoid Being Psychologically Destroyed by Your Newsfeed.
I am a big fan of maintaining a sense of optimism. It also helps to keep your sense of humour well-nourished. There are lots of laughs to be had on Twitter for academic types: Sad Chairs of Academia, Academia Obscura, PhD Comics, and (sadly no longer updated but still funny) Academic Comics: