I spent part of this week – my final working week for the year – at the Macquarie Minds showcase. I wasn't able to attend all sessions but those I did proved thought-provoking. Listening to these academics it was easy to see why they are at the top of their game: they are passionate, they communicate effectively to non-specialists and they show that their research and teaching matters.
The session on Pathways to Building  an Academic Career: From PhD to Professor is one with resonance for the ideas I discuss in this blog. The panel consisted of university leaders and senior academics. I have worked with many of them, I have been and continue to be mentored by them, and I enjoyed hearing the stories of their academic careers.
The session started with an introduction to the new academic promotions policy, which I think is a very positive step (the challenge will be changing the mindsets of promotions committees).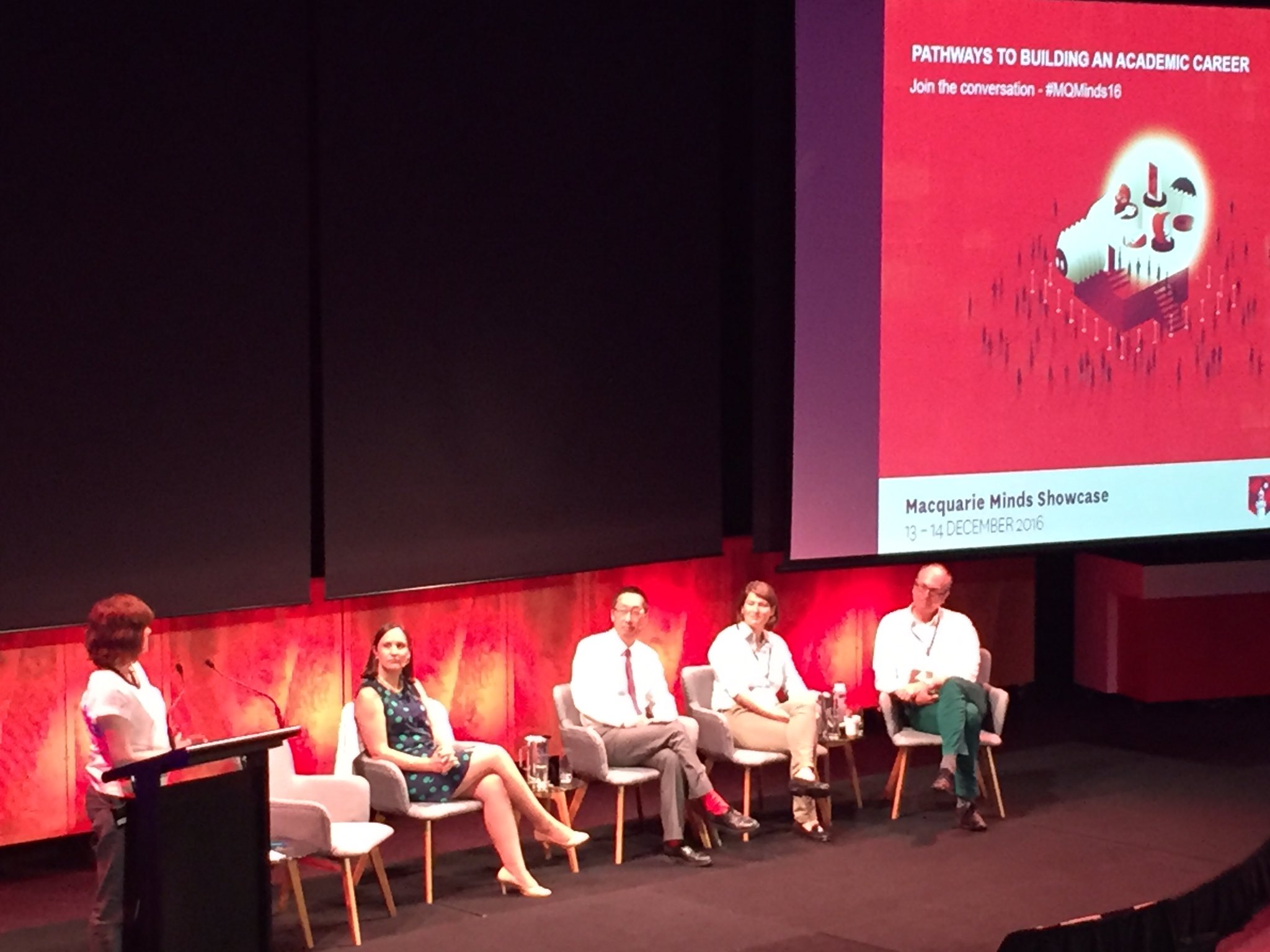 Photo by @uche_ngwabe via Twitter.
The idea of luck or the accidental academic career (as I have previously mentioned) was a dominant one. And one piece of advice was to say yes to lots of institutional service ("things no one else wants to do") to open up career opportunities, to which Twitter responded:
@AgnesBosanquet THE disagrees – Female professors 'pay price for academic citizenship' https://t.co/LNfR48VVFf via @timeshighered

— Marina Harvey (@BLASST_) December 14, 2016
But the title of the session seemed a misnomer, and I believe there was a mismatch with audience expectations. Casualisation was the elephant in the room. There was a lively Twitter backchat that raised some of these points:
Can you see the ELEPHANT IN THE ROOM? "Restructure", "job security" "uncertainty" #MQMinds16

— Andrew Dunstall (@lemetaphysicien) December 13, 2016
HR in HE seem such large professional units, I wonder why? #casualisation? #mqminds16

— Penny Wheeler (@pennyjw) December 13, 2016
Mansfield: lots of PhD candidates, not all will be academics. Dreams of move btw govt, industry & unis. Accepts this = insecure. #MQMinds16

— Agnes Bosanquet (@AgnesBosanquet) December 13, 2016
But do academics do this today? Nice advice from sedentary and comfortable chairs. https://t.co/CEgopjGTve

— Andrew Dunstall (@lemetaphysicien) December 13, 2016
Needs institutional support to enable pathways btw academia, govt & industry without making job insecurity an individual risk. #MQMinds16 https://t.co/5EKdQvBdQb

— Agnes Bosanquet (@AgnesBosanquet) December 13, 2016
I asked about this final point during question time – it is a difficult question and the panel responded thoughtfully. Colleagues and I continued to discuss the ideas for a long time after the session. I would like to think there are some ideas in the works for helping academic aspirants to have "lucky accidents" and for PhD graduates to be supported to apply their academic research to non-university contexts with minimal risk. Watch this space.